Spot color digital proofing is no longer difficult
Holding hands
With the increasing popularity of CTP technology, digital proofing has been applied more and more widely in the printing industry at home and abroad. However, despite the introduction of new digital proofing software or inkjet proofing equipment, spot color digital proofing and six-color high fidelity digital proofing have always been a headache for the industry. Especially in the packaging and printing industry, the existing proofing software is often difficult to match the spot colors of the digital proofs to the perfect match of the final printed spot colors. Mr. Yang Liren, general manager of Beijing Huali Zhicheng Technology Co., Ltd., told reporters that Huali Zhicheng has been focusing on digital proofing in recent years and has been looking for good spot color proofing software. He hopes to solve the problem of spot color digital proofing. Customers provide better digital proofing solutions. Through the introduction of Epson and Apple Computer, they met Gimle and found AbsoluteProof. After understanding, they believe that AbsoluteProof is the ideal solution for spot color digital proofing and Pantone Hexachrome high fidelity digital proofing. Therefore, they decided to introduce this excellent digital proofing software to domestic users. In February 2004, Huali Zhicheng signed a cooperation agreement with AbsoluteProof's research and development company Gimle, officially becoming AbsoluteProof's general agent in China.
Mr. Hugo Kristinsson, Manager of Gimle, mentioned that choosing Huali Zhicheng as the sole agent of AbsoluteProof in China is because he thinks that Huali Zhicheng is a very professional company that provides digital proofing services, has a high level of technology, and cooperates with such professional companies. This will facilitate the promotion and application of AbsolutePr00f in the Chinese market.
Research and development
With the improvement of people's living standards, the requirements for the design and printing quality of printed materials are also getting higher and higher. Packaging printing is not only more exquisite in design, but also the application of spot colors. CMYK four-color printing has been difficult to meet the requirements of customers. Prints often require seven or even eight colors. Pantone introduced the Hexachrome six-color high-fidelity printing process as early as 995. It uses C, M, Y, and K colors plus orange and green to reproduce the prints, aiming to simplify the process. Improve user productivity and reduce production costs. Although the Hexachrome six-color high-fidelity printing can realistically reproduce the human skin color, making the print field fuller, fuller, brighter, and more beautiful images, digital proofing has not been able to accurately simulate the effects of six-color hi-fi printing.
Gimle, a company based in New Zealand, noticed this problem, the company founder Hugo Kristi
Mr. Nsson started his research and worked closely with GretagMacbeth, Pantone, Epson, Hewlett-Packard, Roland and color management consultant Don Hutcheson. At the end of 2000, he launched AbsoluteProof, the world's only high-fidelity ICC inkjet digital proofing software, enabling customers to Samples output from the proofer can emulate Hexachrome's six-color high-fidelity printing and Pantone spot color printing.
According to Mr. Hugo Kristinsson, AbsoluteProof is a software designed specifically for the printing industry. It accurately simulates 95% of Pantone colors and supports Hexachrome's six-color hi-fi digital proofing. Reproduce 200 lines/inch real outlets. AbsolutePr00f runs under Mac OSX environment and is easy to use. After the RIP 1-bit TIFF format color separation file, the image file is recombined and color managed by AbsOluteProof's Hexachrome ICC Press Profiles, and then sent to the Epson six-color inkjet proofer to output proofs, using the full color of the proofer. The domain simulates the effect of high-fidelity proofing and Pantone colors. Hugo Kristinsson said that the key to the AbsolutePr00f-driven inkjet proofer being able to simulate 95% Pantone color is because the color separation file is processed in the L*a*b* color space and the color information is in C, M, Y, K, Orange, green output of several channels. The L*a*b* color space defines the color value using a mathematical model. Regardless of the device, the color value of the image is converted to the printer's color space so that the color matching is more perfect. Hugo Kristinsson also mentioned that Abso1uteProof uses GretagMacbeth's ProfileMaker professional multicolor model in order to support high-fidelity digital proofing. Therefore, almost all Pantone colors can be simulated, and overprinting and trapping effects of spot colors can also be achieved on digital proofs, so that the effect of digital proofing can be more matched with the actual printed proofs.
After AbsoluteProof was introduced to the market, it was applied in North America and Asia. Mr. Huq0 Kristinsson mentioned that currently, AbsolutePro0f sales in Asia account for about 30% of its global sales, and its customers are mainly distributed in Singapore, Malaysia, Thailand, the Philippines, and the Hong Kong Special Administrative Region of China.
Promotion
Talking about the promotion plan of AbsolutePro0f in China, Mr. Yang Liren told the reporter: "We have developed a detailed training plan. First, we are ready to work closely with Epson, Pantone, and Gimle to launch a comprehensive digital proofing solution to the domestic market. Secondly, we will look for distribution partners, invite powerful companies to join and participate in the sales of the program; third, because spot color digital proofing is still in the stage of understanding in China, six-color hi-fi digital proofing is still In its infancy, we will also hold training courses to allow more users to understand and understand AbsoluteProof through technical training. We understand that spot color proofing and high-fidelity digital proofing can be completely resolved through digital proofing; and fourth, we are ready to participate. Some industry exhibitions advertise and introduce the advantages of the program. Fifth, we will conduct series of publicity through domestic professional media and introduce outstanding foreign technologies to the country. Mr. Yang Liren revealed that, in fact, there is already a lot of respect in China. Source Printing (Dongguan) Co., Ltd., Jilin Printing (Shenzhen) Limited Division two users in the use AbsoluteProof, users reflect the good results.
Mr. Yang Liren finally emphasized that for users to use AbsolutePro0f, to obtain the ideal proofing effect, high-end inkjet proofers such as Epson and R01and need to be configured. AbsolutePr00f software currently sells for more than RMB 40,000 in China. Huali Zhicheng will provide users with the most complete service to help users make good use of AbsoluteProof and obtain satisfactory spot color proofing or high fidelity six-color proofing effects.

Please kindly offer detail description and requirements of product,like:

picture of case, size , quantity ,material ,color, logo imprint, and so on.
We offer picture and details of goods after production finished, and your QC inspection welcome!



Specification of Earphone Storage Case


| | |
| --- | --- |
| Product Name: | EVA Headphone / Earphone Case |
| Model Number: | ZC2018 |
| Material: | Molded EVA foam interior, canvas outside |
| Color: | black, red, brown, accept customized |
| Size: | customized size is acceptable |
| MOQ: | 1000pcs |
| Logo Print: | Embossed logo, Debossed logo, Silkscreen logo... as required. |
| Usage: | Headphone / Earphone Packing |
| Customized: | ODM&OEM is accepted |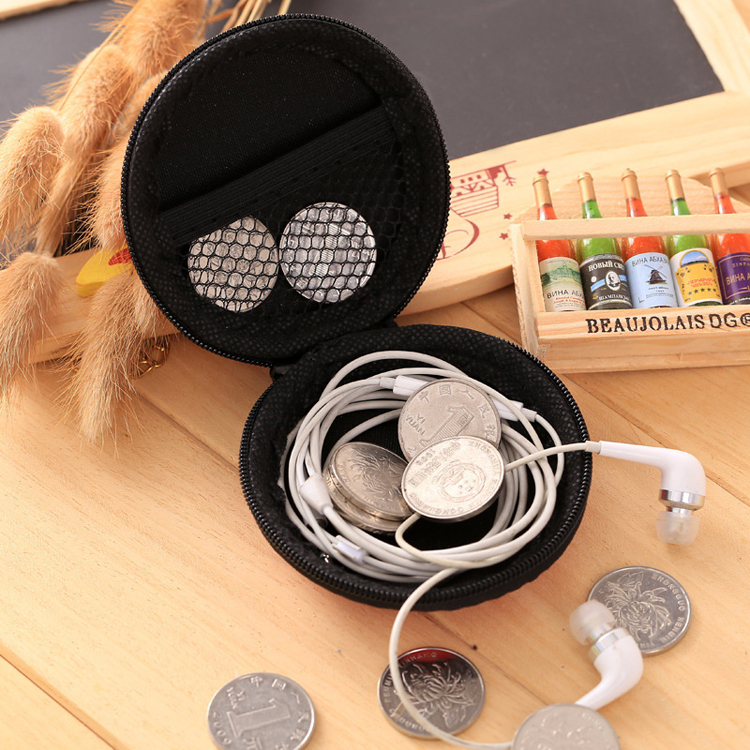 Earphone Storage Case
Earphone Storage Case,EVA Zipper Case,EVA Earphone Storage Case,Earphone Zipper Case
Ji An Chi Cai Gift and Packaging Product Co., Ltd. , http://www.chicaieva.com